Welcome
The Kitsap Aircraft Radio Control Society is an active aeronautical club with about 100 members of all skill levels, from novice to expert. If you are new to flying, be sure to check out our free "Learn to Fly!" offer in the featured section at right. --->
We meet on the second Tuesday of each month at The Sunnyslope Improvement Association or at Marlin Little Field during the summer.
For more information on how to join or to get involved, Contact Us.
Upcoming Events
Club News
Items in
red
are new/changed since last club meeting
Indoor Flying
Our last Indoor Flying event will take place Friday, March 27th, at Marcus Whitman Jr. High School from 6:00 to 8:30 pm. The address is 1887 Madrona Dr. SE, Port Orchard, WA 98366.
No food or drinks are allowed in the gym. Only soft soled shoes or no shoes on the gym floor. We must not leave a mess for the custodian to clear up after we leave. Aircraft must be suitable for indoor use.
Warbirds Fly-in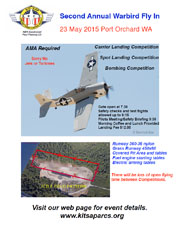 The 2015 Warbirds Fly-in will be held on Saturday, May 23rd. Click here or above for more information.
About the AMA
The Academy of Model Aeronautics is the world's largest model aviation association, representing a membership of more than 175,000 from every walk of life, income level and age group and is open to anyone interested in model aviation.

AMA District XI
includes the states of Alaska, Idaho, Montana, Oregon and Washington.