Welcome
The Kitsap Aircraft Radio Control Society is an active radio control aeronautical club with members of all skill levels, from novice to expert. If you are new to flying, be sure to check out our free "Learn to Fly!" offer in the featured section at right. ▬▬►
We meet at 7 PM on the 2nd Tuesday of each month at Marlin Little Field or at The Sunnyslope Improvement Association during the winter.
For more information on how to join or to get involved, contact us.
Upcoming Events
May 2018
Club News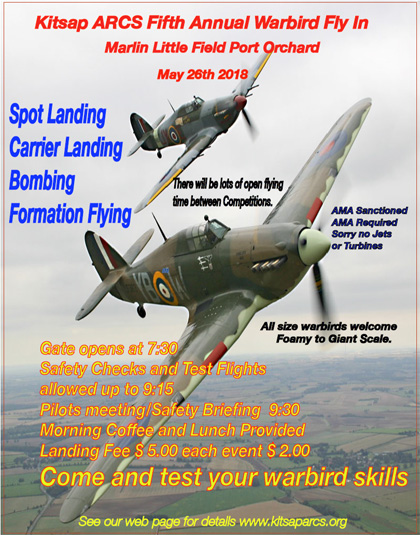 (click for more info)
KitsapARCS Annual Warbirds Fly-in
May 26th at Marlin Little Field.
Spot Landing, Carrier Landing, & Bombing Competitions.
Formation Flying.
Gate opens at 7:30 am. Safety checks and test flights allowed up to 9:15. Pilots Meeting/Safety Briefing at 9:30.
Morning coffee and lunch provided.
Landing Fee $5.00, each event $2.00.
AMA Sanctioned Event -
AMA Membership Required.
Prizes!
---
Paul's Telemaster X
Paul and Jim build (& upgrade) a Telemaster ARF to use as a test-bed for the counter-rotating gear-box Jim built to power their scratch-built Douglas XTB2D Sky Pirate.
See Paul's Construction Page for more of his projects.
Build Challenge 2018
This year's Build Challenge has entrants constructing a "new" airplane, documenting their progress with pictures on the club web site or Facebook page. All the aircraft will be flown for the first time on the same day. See Build Challenge 2018 for details.
Safety Briefing 2018
The Field Safety and Operations briefings are now available on the Safety Information page.
Membership Renewal
Membership renewals for 2018 are now available. See the Membership Page for more information.
Pre-prepared renewal forms may be obtained at any club meeting, most club events or directly from the club Treasurer.
Renewal payments may be made electronically, by check, or in cash. See the Membership Page for instructions.
About the AMA
The Academy of Model Aeronautics is the world's largest model aviation association, representing a membership of more than 175,000 from every walk of life, income level and age group and is open to anyone interested in model aviation.

AMA District XI
includes the states of Alaska, Idaho, Montana, Oregon and Washington.