Welcome
The Kitsap Aircraft Radio Control Society is an active radio control aeronautical club with members of all skill levels, from novice to expert. If you are new to flying, be sure to check out our free "Learn to Fly!" offer in the featured section at right. --->
We meet on the second Tuesday of each month at Marlin Little Field or at The Sunnyslope Improvement Association during the winter.
For more information on how to join or to get involved, contact us.
Warbirds Fly In
This Saturday!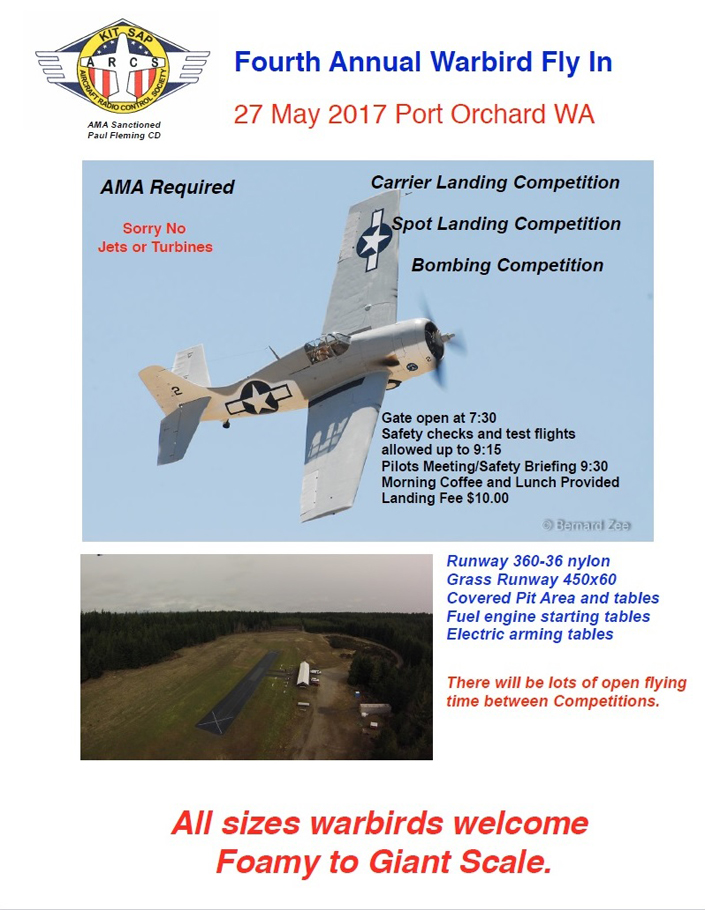 (click for more information)
Upcoming Events
Club News
Items in
red
are new/changed since last club meeting
Safety Concerns
Recently there have been several incidences of club members not knowing, not understanding or ignoring club safety rules. The Board has proposed updated rules to clarify what is required of club members at the airfield.
Click here to review the proposed rules.
The proposed rules were discussed at the May club meeting. The revised rules will be published soon.
A number of field safety improvements are also being proposed. Click here to review them.
Spectrum DX4e/5e/6i Transmitters Wanted
John Tilly is looking for unusable Spectrum DX4e, DX5e or DX6i transmitters. See the Buy & Sell Page for details.